Newt Gingrich & Ron Paul Longshots According To Newest Presidential Betting Odds
Barack Obama, Mitt Romney, Rick Santorum sitting in a tree, r-u-n-n-i-n-g.
It seems like all we are hearing about are these three politicians because of the overwhelming feeling that they are going to be voted Captain America in the coming election in 2012. But aren't there other candidates? With the rise and fall of Hermain Cain, Rick Perry forgetting what his policy was even about, and the many other candidates who tried and failed to even make it out of the Republican vote, there are still a few candidates who might make it to Election Day. Through it all, Newt Gingrich and Ron Paul have maintained one thing; they haven't had to pull out of the race.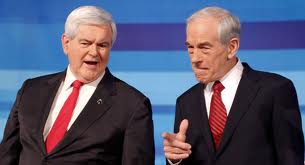 At one point, Gingrich was actually a candidate that Romney was focusing his advertisement time on. When Santorum was not nearly as popular, Gingrich was thought to be Romney's least favorite person for the time being. The Florida Primary was supposed to be a big win for Gingrich, which instead resulted in another big victory for Romney. It was around that time that people started to feel like Newt's position in the race was starting to falter. Now almost exactly a month later, the people were dead on. Gingrich's shade of ability to win the Republican candidacy, shown in South Carolina, was to a point that may never be reached again. The plummet in favor to win could as cause him to lose favor in South Carolina, assuming that a majority of people won't want to vote for a candidate they know will not be winning.
The other name you will find on the Republican ballot next to or below Gingrich, is Ron Paul. Paul, famous for being on record years ago predicting the housing market collapse, has some merit for votes assuming he can continue fortune telling. Paul just seems to be unable to break through the wall that Romney and Gingrich had established before Santorum found the formula to make his recent push. The lack of favor for Ron Paul seems a bit more related to image and not policies. Paul has been reported by csmonitor.com, to leave our national debt at a lower rate than all other candidates. According to Bovada.com, however, Paul still has the lowest odds to win the Republican candidacy at 25/1. Gingrich is not much better at 20/1 odds to get the bid to run against Barack Obama. As far as beating Obama, Paul is a long shot at 50/1 odds with Gingrich still not much better at 40/1.
Newest 2012 Presidential Election Betting Odds – as found on Bovada's "political betting odds" page
Barack Obama -230
Mitt Romney +275
Rick Santorum +1000
Newt Gingrich +4000
Ron Paul +5000
Hillary Clinton +10000